Careers
Welcome to our Careers and World of Work section. Our vision is to encourage self-awareness, confidence and independence so students can make informed decisions about their future.
---
Careers Team
Assistant Head Teacher responsible for Careers: Jill Heales
Careers Lead: Keroneque McNabb-Henry
Careers Officer: Ruth Turner
Link Governor: Olakunle Babarinde
Contact us at careers@langleyacademy.org or call 01753 214463.
You can follow us on Twitter @TLACareers
You can follow us on Instagram @TLA.Careers
Careers - TLA Provider Access Policy (January 2022)
Careers Education and Guidance Policy (January 2022)
Our CEIAG (Careers Education Information and Guidance) programme is inclusive of all students in all year groups and our Careers Policy can be found above and under the Essential Information tab. We want our students to be able to make informed choices about their future and we partner with many external organisations to help us achieve this goal.
Our programme follows the Gatsby Benchmarks and we work with the Careers & Enterprise Company to monitor our progress in meeting these benchmarks which are:
A stable careers programme ​
Learning from careers and labour market information ​
Addressing the needs of each student.
Linking curriculum learning to careers.
Encounters with employers and employees.
Experiences of workplaces.
Encounters with further and higher education.
Personal guidance.
See: https://www.gatsby.org.uk/education/focus-areas/good-career-guidance for detailed information on the Gatsby Benchmarks.
Careers Education
Careers lessons for every year group take place during our House Tutor programme during terms 2 and 4 for years 7 to 12, and also term 6 for year 12. The curriculum is a spiral one that aims to address the needs of students at each stage in their TLA journey ultimately making them ready for the world of work.
Each year group has lessons that are focused around a specific theme. The themes are as follows:
Year 7 - What essential skills do I need to be successful in my future career
Year 8 - How does school help with my career- my options
Year 9 - Developing my skills while learning from the labour market
Year 10 - Exploring and experiencing the world of work
Year 11 - Developing me- today & tomorrow
Year 12 - Preparing for the world of work
Year 13 - All about my brand
Below shows the lessons for term 2 as an example of how we explore each theme: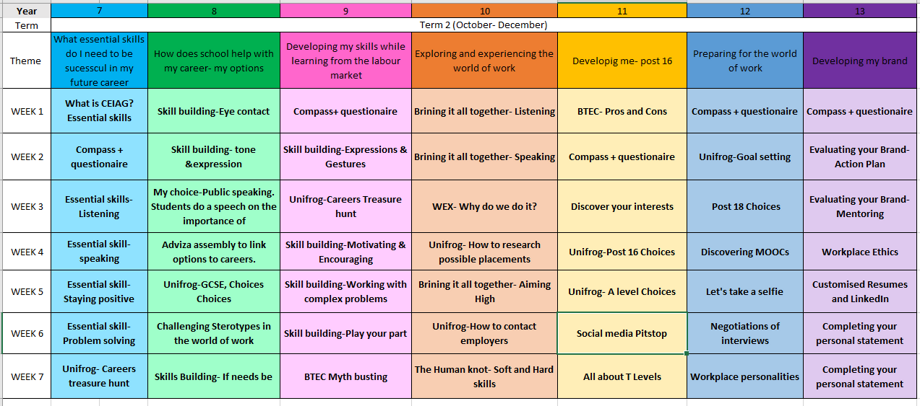 In addition to our careers lessons we liaise with employers, external FE and HE training providers to attend Careers, Apprenticeship and University fairs, special assemblies and careers talks.
Any training providers wishing to present to our students are referred to our Provider Access Policy which can be found above and also under the Essential Information tab.
Unifrog
We have signed up with Unifrog as our careers platform and every student has an account. Unifrog is used in our careers lessons and students are encouraged to use it for independent careers research, to build their own portfolio and CV as well as for their UCAS personal statements. For more information on Unifrog please click on the Unifrog tab.
Career Resources
Students have access to two careers libraries - one in The Careers Hub in front of the LRC and the other in the 6th Form Library - which contain a range of useful books, leaflets and prospectuses that students can access at any time. Careers meetings take place in The Careers Hub and students can also drop in to speak to the Careers Officer during break or lunch times.
Careers noticeboards are used to promote careers events, work experience or volunteering opportunities, college and university open days, etc.
Careers Guidance
We partner with Adviza who provide qualified Careers Advisers to meet with every student in Year 10 and 11 to help them make the best choice for their future. Students from every year group can request a careers meeting with the Careers Officer to discuss their options or get support with applications, CVs, etc. The Careers Officer will refer them for a meeting with Adviza where appropriate.
To support the work that Adviza do in school students, parents and carers can also access 'The Careers Guidance For You portal' which contains information and advice for students, parents and teachers. Please go to the Adviza tab for more information.
Getting Work Ready
We believe in the importance of work-related learning and employer engagement for our students and aim to give them a mix of live interaction with employers and virtual work experiences. We partner with 'Learning to Work' who organise off timetable events such as workplace visits, employer talks, Enterprise activities and Careers Fairs for our students from Year 7 up to and including 6th Form.
The Academy will liaise with 'Learning to Work' to provide Students in Year 10 and Year 12 with one or two Work Insight or Work Ready days where they will interact with local employers and business volunteers. Year 10 and 12 students will have the opportunity to find their own in-person placement that they can attend on these specific dates as an alternative to these events. In addition, they are encouraged to take part in virtual or in-person work experience during their own time so as not to detract from curriculum/classroom time. For Year 10 this could happen over the summer before they start Year 10, during the year and extend into the summer before they begin Year 11. Year 12 should gain relevant work experience during the school year including the summer holidays after Year 11 and before Year 13.
We will prepare and support our students in finding work experience and students should use the Placement Tool in Unifrog if organising their own placement to ensure it is safe and authorised. Opportunities for work experience, employer webinars and talks are advertised on the Careers Noticeboards, in Future You publications, on Teams pages and by email.
In addition, we encourage students from Year 9 upwards to participate in virtual work experience during their own time and to record this as an Activity on Unifrog. Employers value quality virtual work experience and participation in these demonstrates that students are dedicated, enthusiastic and prepared to put in the work. Some excellent platforms are shown below and we also recommend that students sign up for pathwayctm.com – an organisation that offers great resources, benefits and work experience for young people.
Parents, carers and employers – we need your help!
If you work in an organisation that would be willing to provide work experience or work insight days for any of our Year 10 or Year 12 students please complete this online Opportunities Form with details.
We are also always looking for Speakers… if you think you could deliver a careers related, motivational or inspirational talk to our students please email us at careers@langleyacademy.org. Thank You!
---
Please click on the expandable sections below for further useful information.
Adviza
Apprenticeships
'Future You' Careers Bulletin
Parents/Carers
Student Destinations
Unifrog
Useful Websites