National Junior Indoor Rowing Championships 2021 NJIRC Online
Back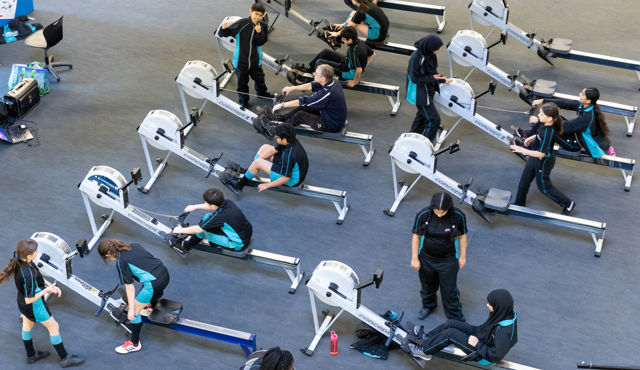 Apr 23, 2021
The Covid-19 situation has caused the National Junior Indoor Rowing Championships (NJIRC) to be turned into a virtual online competition for 2021. Instead of travelling to London, competitors will participate online on rowing machines at school on Friday 14 May 2021. There are individual events, and team events for four people.
The names of those who have been invited to take part are below, together with the lesson they would miss. I have timetabled the students into periods where that year group would normally have PE, to minimise inconvenience. I have indicated where students do not normally have PE, so would miss another subject's lesson. This would be instead of having any curriculum groups that are sent to me during PE lessons.
30 entries have been paid for, so if you know of any students who would like to take part instead of any who might decline, please let me know.
Nigel Weare - Director of Rowing
Friday 14 May

Lesson 1

Year 9

Dayem Afzal

Lesson 2

Year 9

Gian Dhillon

Govind Dhillon

Joshua Coull

Piero Ciobanu

Zayaan Adil

Break

Lesson 3

Year 8

Azeem Ahmed Khan

Miracle Ifeabunike

Jimmy Harty

Lesson 4

Year 11

Matteo Avello

Senraj Brar

Lesson 5

Year 11

Luke Birdseye

Rayan Rahman

Lunch 13:40 - 14:00

AFTER HOURS

14:00 - 15:00

6th Form

Year 10

Year 7

6th Form

Aaditya Gupta

Lewis Phillips

Jasmine Jenkins

Madison Oram

Year 10

Jack Francis

Joshua Monds

Subhan Mirza

Timas Montvydas

Wiktoria Odrazil

Year 7

Ambika Sinha

Anika Sinha

Masooma Afzal

Year 7

Aaron Patel

Aryan Chimote

Furqan Muhammad

Joshua Purdesey

Michael Harty

Olivier Januszewski

Udeveer Basra