Power League Tournaments
Back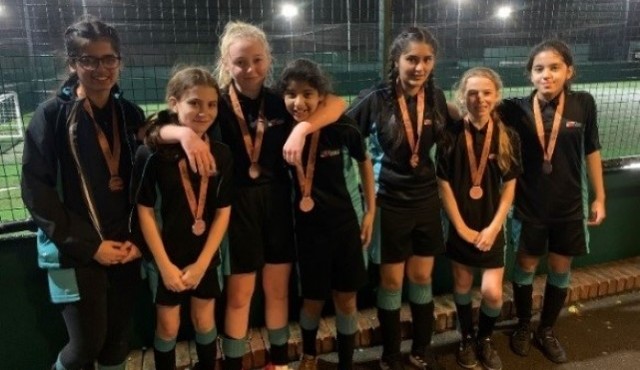 Dec 10, 2021
Year 7 Power League
On Thursday 9 December TLA were invited to a 5 aside power league fixture hosted by Slough and Eton College. There were 12 teams were entered into this competition from various different schools within Slough.
Our Year 7 team consisted of: Andrew (GK), Kalen, Zak, Elliot, John, Jayden (c) and Oliver.
Our first game was against Langley Grammar where our captain Jayden scored a brace and Elliot managed and controlled the game from midfield. However, a controversial last-minute penalty decided the game and resulted in TLA losing the first game 3-2. The boy's heads were down and they were upset with the result.
TLA's second group game was against Grove Academy where the TLA boys went out fighting and left everything out on the pitch. A smashing 5-0 victory with Jayden scoring a hattrick! Furthermore, the boys controlled the game from start to finish with John weaving through the Grove Academy defence like a young Lionel Messi and slotting the ball home. A special mention to Zakariya in this game who scored the goal of the tournament arrowing the ball into the top corner!
With confidence and an air of positivity from the result we went into our 3rd game against Ditton Park Academy. Although the boys played incredibly well a couple of ricochets didn't go our way and resulted in the ball falling to Ditton Park which resulted in them scoring and beating us 3-0. Even though we lost this game Oliver and Kalen showed some terrific defensive displays that kept us in the game.
A short turnaround and next up for TLA was Wexham School. Jayden back on the score sheet with another hattrick! Bringing his total up to 8 for the tournament a true captains performance leading the team to victory. Goals from Oliver and John contributed to the 5-0 victory over Wexham School. The last game of the group was against Slough & Eton. Some fine saves from Andrew showing off cat like reflexes to keep TLA in the game. S&E proved to be too strong for the TLA and we ended up losing the final game 2-0. With only winning 2 out of the 5 games we were unfortunately didn't proceed to the next stage of the competition. TLA showed great effort and sportsmanship throughout the tournament and represented the school tremendously. Hopefully next year we will be able to go back improve upon our performance from this year.
Year 7 and 8 Power League Tournament at Slough & Eton School -
By Sara, Year 8
Last week I went to a power league football match and I'm going to talk about my experience and how it went. We played against 5 other schools and we won nearly all of our games. We have a really strong Year 7 and 8 combined team. We have solid defenders where not much gets past them as they are so determined and resilient and don't stop working. Our strikers get in some great scoring positions and some of the goals they scored were amazing! One of our teammates won a penalty, but unfortunately missed it. We all got around her after and made sure to keep her confidence high as we are a team and win or lose together. We drew 1 game and lost 1 game but it didn't matter that much because we went there to have fun and participate - I was really grateful that I got chosen. We came overall third in the tournament which was out of 15 teams. We are so proud of ourselves as this is a great achievement. Me and my team mates tried our best to impress Ms Mackenzie and we had lots of fun and can't wait for the next fixture!