Design & Technology Update
Back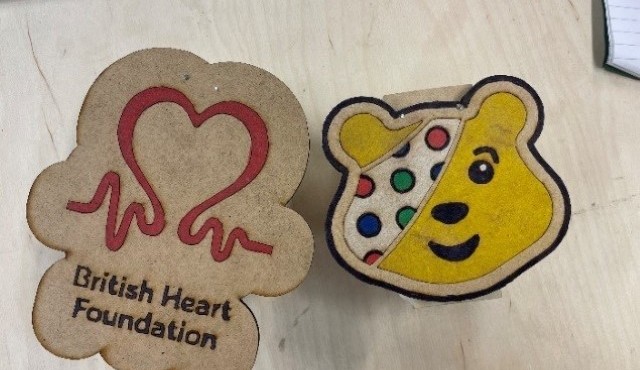 Dec 16, 2021
Year 7 Design and Technology students have produced some excellent work for their foundation projects, for example, paper gripper and sweet dispensers. Take a look at the samples below.
Year 7 and 8 Food Tech students have been getting 'Christmassy' and creative by decorating Swiss Rolls like this one by Oliver Porter. They have been using their innovative skills and manufacturing Yule Logs.
Year 10 Design and Technology students have been using sustainable material and manufacturing a page divider, which can be used when reading a book. The designs have been based around the drawing method of 'Scrufitti', which is a design methodology for A Level, however the faculty thought that students in the lower years would benefit from this method and the results proved that this was the right move.
Year 11 Hospitality and Catering students have been practicing their final pieces of coursework, which they have to perform on Friday 11 February 2022. They manufactured various dishes from a Lemon Meringue Pie to a traditional Chicken Curry.
Year 12 students have started their journey on the A Level course by undertaking rigid structure of theory, practical and technical drawing. They are covering theory in the form of 'Design and Making Principles', where they are learning about design methodology, design movements and the process of design. This is followed by small focused task, for example 'product is a box', which is based around selling a flat-packed product at the Design Museum. This is then completed with visual communication skills in the form of technical drawing.
Year 13 Product Design students are well into their NEA (Non-Examination Assessment), which will count for 50% of their final grade. They have chosen their own projects and products that they would like to manufacture - this is an important aspect of their work. All students are now working towards their design and developments of their chosen design - this is the lengthy part of the design process and hoping to finalise a design before Christmas. Projects are varied from a relaxing chair to a table, or a bedside cabinet to a multi-purpose desktop holder. Some examples of the current NEA are shown below. Students are looking to complete this extended project by February 2022. Updates will be given in future newsletters.