Prabhleen Parmar, Poetry Winner!
Back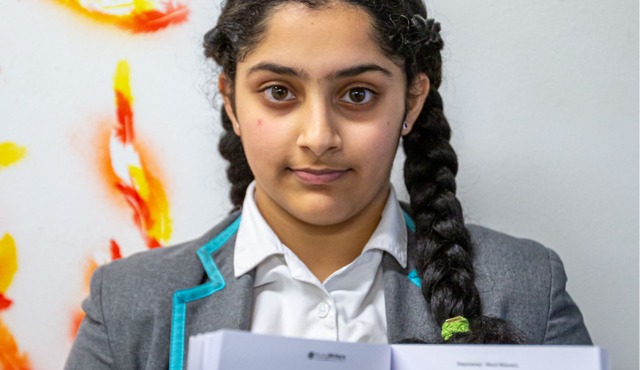 Feb 11, 2022
Prabhleen Parmar in Year 9 has become a published poet after entering and winning a Young Writers competition. The prize sees her poem, entitled "Two Wishes" published in a book called "Empowered Word Weavers".
"My Poem is written from the perspective of people that suffered the pain and misery of losing their relatives. The purpose is to encourage those in distress to come out of that pain and try to discuss with loved ones and trying to put everything back together."
Prabhleen says that lockdown inspired her, in particular when the daily figures appeared, "I thought about all those people who suffered so much. Also, I knew from experience."
We, at Langley Academy, are so proud of what Prabhleen has achieved. Her choice of wording is evocative and gets to the heart of the subject matter and is mature beyond her years. Here is her poem:
Two Wishes
Life has cracked, broke and mended our delicate hearts.
Like a rapid tsunami, the destructive darkness arrived.
The thunder (of darkness) had roared so loudly.
To us, normal became an unheard desire for all.
The spiral(filled with penetrating pain, silent sorrow,
Distressing sight and scent of death)
Produced fearful presences.
Those had accepted that truth is burning cold.
Diminutive ray had appeared as an angel of stars.
We had suffered but raised our heads high.
The disastrous, long and depressing
Battle was nothing like before.
Yet we fought with determination,
Resilience and valour.
The cold was desolated without communication.
Rules, rules and rules followed; we had given up
Our will to become a saviour.
It left a mark on us.
Valiant heroes had supported the needs.
We had recognised and thanked them.
As a courageous lion,
We still have the strength to adapt once more.
Accept the truth that our going back to
Normal is eventually occurring.
Be proud of yourself. Our two wishes.