Design & Technology Update
Back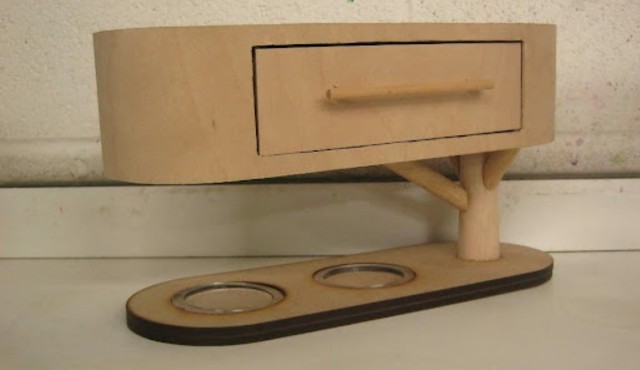 Feb 16, 2022
In Textiles, Year 8 students have been learning to use the sewing machine and most recently have been using the technique of couching to decorate their fabric before making it into mobile phone cases. Couching is a technique in which yarn is laid across the surface of the ground fabric and fastened in place with machine stitching. The brightly coloured wool yarn the students have been using was kindly donated to the faculty earlier this year. We are always grateful for any donations of yarns, buttons, beads, fabrics etc.
Year 10 students in DT are being team-taught by Mr Lad and Mr Ferrin. This is a new teaching strategy that is being used by both teachers to close-the-gap in terms of theory knowledge. Lessons are being taught outside the workshop, inside South-Wing and they have been structured in the same way as when students complete their exam. All Year 10 studentss will be undertaking their mock examination after the February Half-Term. Best of luck.
Year 11 DT students are also in the same position as the Year 13's, where they are putting the final touches to their paperwork. All proposals for a final model have been completed. We, as a Faculty and an Academy, are very proud of them, as their education has been greatly disrupted, but they have produced some great work. Some examples of their final models are shown below. Learners are looking to complete this extended project by 18 February 2022.
A shout out goes to the Year 11 Hospitality and Catering students who completed their practical exam on Friday 11 February 2022.
Some of the dishes that the students produced was fantastic! We had a Black Forest Gateau, Butter Chicken, Lasagne, Tandoori Chicken to someone making pasta from scratch. These students have truly been great as their lead-up to this has been disturbed with COVID-19. Both Ms Wauchob and Ms Kinch (who were leading the exam) were extremely pleased with what you had achieved and completed in the time frame.
Year 12 students have been working on a combination of their theory, visual communication and practical skills. The lessons have been divided up for them to benefit from two-teachers and three main focus areas. On Tuesday all students study an in-depth theory program, which relates to practice examination questions. Thursdays are now dedicated to the NEA, this has been moved forward as the Year 12s need to manufacture a final model (something they would purchase in the real world). This obviously will be an extended project and they will be looking at completing by February/March 2023. Mr. Ferrin is supporting the NEA by teaching students technical drawing skills.
Year 13 Product Design students have completed their final proposals for their NEA (Non-Examination Assessment), which will count for 50% of their final grade. They have chosen their own projects and products that they would like to manufacture, which is an important aspect of their work and are now working towards completing their folder work, which is roughly 30 pages of A3 paper. Projects are varied from a relaxing chair to a table, or a bedside cabinet to a multi-purpose desktop holder. Some examples of their final models are shown below. Students are looking to complete this extended project by 28 February 2022. Updates will be given in future newsletters.