International Womens Day - Our inspirational leaders
Back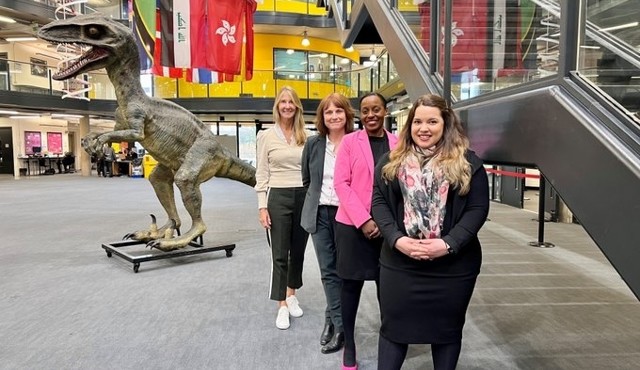 Mar 8, 2022
Annabel's family set up the Arbib Education Trust in 2005 with the vision to give children opportunities they wouldn't normally have access to. As part of this vision two new schools were designed to create not only the best learning environment but to be sustainable in response to climate change, through forward thinking solutions.
To bring learning to life and to encourage students to question the world around them, Annabel's vision, inspired by schools in New York, led to the development of our 'Museum Learning' schools, the first in the UK.
Annabel's ongoing passion for supporting and engaging with our community runs deeper than generous funding. Annabel is often seen in and around our schools. During the recent pandemic she volunteered to administer student Covid-19 tests and distributed food and supplies to our community.

Alison, Head at The Langley Academy, is wholly committed to ensuring that all of our students enjoy an excellent, all round education and achieve their very best; both in the classroom and beyond. Alison still very much enjoys teaching (twenty-six years on!) and being part of the ongoing professional development that has become a well-established part of the Academy culture. She has championed middle leadership development and facilitates leadership development at UCL IOE and Berkshire Teaching Hub. She also holds a number of community leadership positions, including Vice Chair of Slough Association of Secondary Heads and is on the Board of the Thames Valley Learning Partnership and Slough's Youth Offending Team.

Under Tracey's leadership The Langley Academy Primary was born and with her vision, high standards and tenacity we became an 'outstanding' school. Her empowering leadership style led to the introduction of a 'free flow' learning model which instils a sense of fun, builds on our children's natural curiosity and encourages them to explore and discover so our children learn at a greater
depth.
Tracey is one of a small number of black female Ofsted Inspectors, appointed following participation on the Diversity Programme. Having grown up in Langley and lived in Slough, giving back to the community is extremely important to her, working in the Arbib Education Trust enables this to happen.

Having made a massive impact as Deputy Head, Hanna is now leading our dynamic Langley Heritage Academy Primary school as the Head. Hanna has fostered an environment where staff are empowered to make decisions, resulting in the Junior Duke of Edinburgh introduction to primary children and the use of our Museum Learning model to develop critical thinkers, exemplified by children professionally exhibiting their learning externally. Hanna, a previous SENDco is passionate about striving for the best for vulnerable children to ensure they make exceptional progress both academically and personally. A community hub set up within the school now enables us to connect and learn together.